April 04, 2021 | heritagestanding.com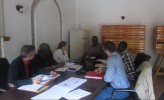 In my first HSI Musing I would like to talk about business. When I started Heritage Standing Inc. I didn't really think so much about the business model that would run alongside the technical expertise. My focus had been to provide technical services specialized for a unique set of buildings (old buildings) and that by having this specialized service I would be able to support projects. I still had that feeling from engineering school that the best technical solutions...
Read More
April 04, 2021 | heritagestanding.com

Historic masonry can lead to surprises if you're only familiar with new methods and materials. Successful repair requires compatibility with historic materials. Below are two short videos by Dr. Tom Morrison that provide helpful advice when working with historic masonry.
Read More